Dr Angus Nicoll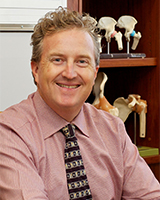 Dr Angus Nicoll
Dr Angus Nicoll is an Orthopaedic Surgeon with special interests in Surgery of the Hip and Knee. He provides general orthopaedic care including acute sports injury, trauma and emergency, shoulder, and conditions of the upper limb.
Dr Nicoll was born and raised on the Gold Coast, attending secondary school in Southport. He undertook a degree in Medicine at the University of Queensland completed in 1993. He then commenced specialist training on the Orthopaedic Program within Queensland graduating in 2001. Fellowship in Injuries and Joint Replacement of the Hip and Knee was then undertaken in Sheffield, England and Cardiff, Wales in 2002. Further specialist experience was gained in Italy, Germany and Switzerland in 2003.
Dr Nicoll commenced private practice in 2005 and his private practice surgery is conducted at Pindara Private Hospital.
Memberships
Royal Australian College of Surgeons
Australian Orthopaedic Association
Australian Medical Association
Hospital Admitting Rights
Associations
Fellow of the Australian Orthopaedic Association
Fellow of the Royal Australiasian College of Surgeons
University of Queensland
University of Sheffield
Cardiff University
University of Augsburg (Germany)
Alessandro Manzoni Hospital, Lecco, Italy
Australian Hip Arthroscopy Society
AO Foundation Davos (Switzerland)